It's time for Wicked Awesome Wednesday #269.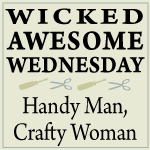 Crisis averted. Handy Man helped me research and figure out how to renew my domain for another year. Way to make it easy on us, Blogger. *eyeroll* That was scary, seeing a big red "SUSPENDED" next to my blog on the dashboard. Yeesh.
I heart vegetables shared a recipe for creamy feta stuffed peppers.
Thelma from Thelma's Days gave us a tour of her pretty flower garden.
The Dedicated House showed us how she used wrapped books to decorate.
Tania from Farragoz shared a tutorial for upcycling a lamp.
Amy from Teach Mama showed us how to make homemade butter.
If you've been featured, feel free to grab our "I've been Featured" button: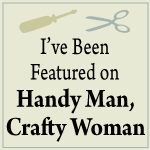 You can link crafts, recipes, sewing projects, home decor, gardening, renovations, etc. Something YOU made or did.
*Please post no more than THREE projects per blog.
* Link to your specific post.
* Please add our button or blog link to your post or sidebar.
* Giveaways, ads, or off-topic entries will be deleted.