Hello! I only have time for a quick post. I'm overwhelmed with getting ready to go back to school, writing projects, life, etc.
See my previous post for Wicked Awesome Wednesday features.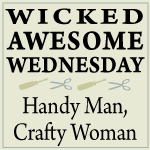 I won't be able to do the blog party this week...please come back next Wednesday, August 31st for the next blog party.