It's time for Wicked Awesome Wednesday #266.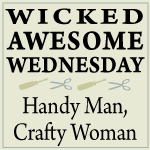 The humidity finally broke, and tonight there's a cool breeze. What a relief! It's been hotter than usual this month.
I'm having a lot of problems with blogger glitching. When I save a post, it shows...nothing. I think last week's post was in draft for a while, instead of being visible to readers. :-(
Kathryn from The Dedicated House shared the progress she's making in a new playroom.
Penny from Penny's Treasures shared her al fresco breakfast in her pretty setting.
Tina from Treasured Tidbits shared a tutorial about how to make a handpainted stepping stone.
Khadija from Creative Khadija shared a tutorial about how to make textured paper.
If you've been featured, feel free to grab our "I've been Featured" button: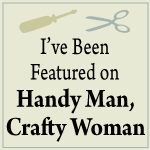 You can link crafts, recipes, sewing projects, home decor, gardening, renovations, etc. Something YOU made or did.
*Please post no more than THREE projects per blog.
* Link to your specific post.
* Please add our button or blog link to your post or sidebar.
* Giveaways, ads, or off-topic entries will be deleted.