It's time for Wicked Awesome Wednesday #206. You can tell spring is here because there's a huge coat of pollen all over everything, and I'm hacking up a lung. I have allergy meds, but geez!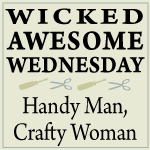 Thelma from Thelma's Days shared her sister's beautiful blue glass.
Diane from Vintage Zest shared made some nautical-inspired mason jars.
Steph from Janus Lane shared a recipe for balsamic sauteed tomatoes and peppers.
Denise from My Life Cookbook made cabbage and peppers kielbasa casserole.
Debbie from One Little Project at a Time showed us how to make gift wrapping with tissue paper flowers.
Brenda from Muchmore Creative showed us how to make Mother's Day tins. Great idea for any occasion.
If you've been featured, feel free to grab our "I've been Featured" button: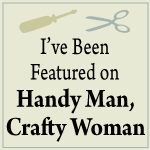 You can link crafts, recipes, sewing projects, home decor, before & afters, etc.
* Link to your specific post.
* Please add our button or blog link to your post or sidebar.
* No advertisements or giveaways