Time for Wicked Awesome Wednesday # 196.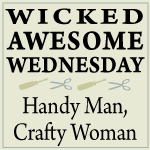 ANNOUNCEMENT!
If you've been reading my blog for a while, you may remember that I've been writing books and going to writing conferences. Click here for the (long) original post, and here for a short update.
On SATURDAY, Valentine's Day, I'll be sharing a link to my new author site. I write contemporary romance.*
Handy Man, Crafty Woman won't turn into a writing blog, but I might post small updates here once in a while, or share a link when there's news.

*No, not like 50 Shades of Grey. Not that there's anything wrong with that. I get this comment ALL the time!
Back to the link party!
Kaylene from The Links Site shared her recipe for plum oat muffins.
Kimberly from Five Little Chefs showed us how to make a Valentine scratch off Advent calendar.
Mary Ellen from Spindles Designs shared her recipe for hot milk sponge cake.
Danielle from Blissful & Domestic showed us how to can salsa.
Logan from Logan Can shared her recipe for Mexican layered dip.
Robin from ReDo It Yourself Inspirations turned cardboard boxes into crafty drawers.
Sahana from Vikalpah shared her easy three layer chocolate fudge.
If you've been featured, feel free to grab our "I've been Featured" button: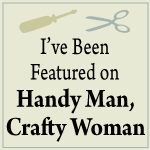 You can link crafts, recipes, sewing projects, home decor, before & afters, etc.
* Link to your specific post.
* Please add our button or blog link to your post or sidebar.
* No advertisements or giveaways