It's time for Wicked Awesome Wednesday #1

19.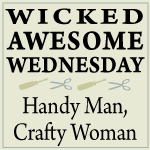 Phew, it's HOT, even up here in New England. And all over the country, it looks like! Hope you're all staying cool.
Rebekah from Somewhere in the Middle had a cupcake decorating party.
Kim from Made in a Day has a tutorial for a Cabana Striped Nautical Rug.

Danielle from Snippets of Inspiration shared a recipe for a fluffy angel food cake.
Kathryn from The Junk in our Trunks painted a dresser with a surprise inside the drawers. You have to see this!
Tammy from The Colored Door showed us how to make a drink cart. Perfect for summer!
Lezlie from Lovilee ReDesign refinished a rustic table.
Mel from The Crafty Scientist made some color blocked planters.
If you've been featured, feel free to grab our "I've been Featured" button: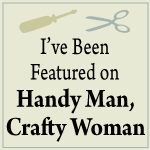 You can link crafts, recipes, sewing projects, home decor, before & afters, etc.
* Link to your specific post.
* Please add our button or blog link to your post.
* No advertisements or giveaways
* Link up only one or two projects