It's time for WAW #79.
**Ack! I messed up! I made the first link party with text links only, no photos. If you want to add a project with a photo, go to the SECOND link party below. If you want to load your project again as a photo instead of just a text link, add it and I'll delete the duplicate text link. Sorry for the inconvenience, it looks like there's no way to change it mid-stream without losing people's projects!*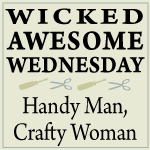 If you've been featured, feel free to grab our "I've been Featured" button: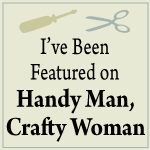 **YOU CAN ADD YOUR PROJECT TO THE SECOND LINK PARTY, THAT ONE DISPLAYS PHOTOS. YOU CAN ALSO ADD YOUR PROJECTS FROM THE FIRST LINK PARTY (WITH NO PHOTOS) TO THE SECOND (WITH PHOTOS) AND I'LL DELETE THE DUPLICATES.**

You can link crafts, recipes, sewing projects, home decor, before & afters, etc.
* Link to your specific post.
* Please add our button or blog link to your post.
* No advertisements or giveaways
* Link up only one or two projects
* Please comment on at least one other blog.
*By linking to our party, you are giving us permission to post your photos if we choose you for a feature.