What a weekend I had! Just came back from a weekend scrapbook retreat in the White Mountains. Wicked fun! So, so tired. I'm suffering from what I call retreat hangover. I'm so tired, have a lot of unpacking to do, and I miss the scrapbook ladies already.
Handy Man and Handy Boy managed to hold down the fort. Our vacuum crapped out recently, so Handy Man bought a new one. I'll talk about that more next week.
I usually post on Mondays, but I just couldn't hack it this week. I thought it would be better to post nothing than to post something half-assed. Of course, I could write posts ahead of time, but that's not how I roll. I also have a wicked funny post planned for Free for All Friday this week. Planned in my head, that is.
Time for our 37th Wicked Awesome Wednesday. Watcha got?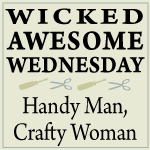 One hundred and twenty seven projects linked up last week!
Stephanie from Angelic Accents made some pretty displays with cloches:
Heather from Tallgrass Designs
showed us how to shorten jeans, and keep the original factory hem:
Ela from Scrapidoodleicious made over a bookshelf she got for free on Craigslist:
Ellen from Creative Passage made some stacked wool Christmas trees. It's not too early to start those Christmas crafts!
I just love paper crafts. Rissa from Hazel and Honeysuckle showed us how to make paper flowers:
Nikki from Everything Under the Moon has a recipe for pumpkin curry soup:
If you've been featured, feel free to grab our "I've been Featured" button: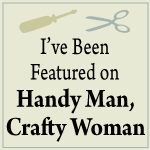 You can link crafts, recipes, sewing projects, home decor, before & afters, etc.
* Link to your specific post.
* Please add our button or blog link to your post.
* No advertisements or giveaways
* Link up only one or two projects
* Please comment on at least one other blog.
*By linking to our party, you are giving us permission to post your photos if we choose you for a feature.