The power came back on today around noon. No power from about 7:30 pm Saturday until noon today. Power outages can be exhausting! They cause a lot of extra work. I'm so glad Handy Man talked me into buying that (wicked expensive) generator when we moved here. Who knew we'd have so many durn POWER outages?!
Good grief! I looked back at old blog posts. We had a power outage in June 2011. And a freaky snow storm on April 1st, 2011. And don't forget Hurricane Irene in late August 2011.
Don't forget the five days of no power in March, 2010. We also had a big ice storm an power outage in 2008, but that was pre-blog, so I didn't get to whine about it in blogville!
Handy Man wants to move to Hawaii. So do I!
Time for our 36th Wicked Awesome Wednesday. Watcha got?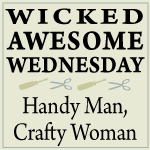 I'm only going to show three projects this week. You guys understand, right? It's so hard to pick some projects to show, it's even harder to choose only three:
Ange from
Decorating the Dorchester Way
made a Dr. Seuss bathroom for her little one.
If you've been featured, feel free to grab our "I've been Featured" button: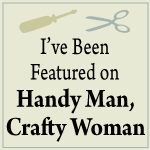 You can link crafts, recipes, sewing projects, home decor, before & afters, etc.
* Link to your specific post.
* Please add our button or blog link to your post.
* No advertisements or giveaways
* Link up only one or two projects
* Please comment on at least one other blog.
*By linking to our party, you are giving us permission to post your photos if we choose you for a feature.