I know I don't usually post on Tuesdays (didn't I say that on Thursday?), but I wanted to share something. We've been talking about a mini master bedroom re-do.
When we first moved in, we threw up the curtains and the bedspread that we had in our second house. We were too busy putting down hardwood floors, painting and cleaning up the yard to think about the master bedroom.
Now, we're ready for a few small changes. I keep thinking about colors, and looking at bedroom makeovers online for inspiration. It was hard to get a good shot of the wall color, but I tried:
This wall color is a beige with a hint of gold in it.


The shopping possibilities are endless, so it's been hard to choose new bedding. We looked online, and went to a few stores. I decided to go with this color for a bedspread:
This color is a nice, smoky blue.
Today, we found a bed skirt that we liked:
I love the texture here. I know it's wrinkly; it's just out of the package.


I am still looking for curtains.
We are working on this a little at a time, to make it more affordable. Have you seen how much bedding costs? Sheesh! Do you ever work on decorating or DIY projects just a little at a time, to spread out the expense?
We'll be sure to show you some before and after pictures. Don't forget to come back tonight for our next Wicked Awesome Wednesday link party!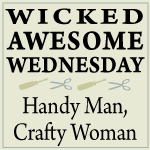 Linking to: Fabric Bows and More/ Funky Junk Interiors/ Chic on a Shoestring Decorating/ French Country Cottage/ The Charm of Home/ Finding Fabulous/ My Romantic Home/ Tidy Mom/ Fingerprints on the Fridge/ A Little Knick Knack/ Fireflies and Jellybeans/ Beyond the Picket Fence/ House of Hepworths/ Somewhat Simple/ Tales from Bloggeritaville/ The Shabby Chic Cottage/ Delightful Order/ We Are That Family/ Sew Much Ado