We recently went to a local nursery to look at flowers and trees. The nursery was huge, it was waaaay larger than it looked from the street.
We walked down aisles of flowers, shrubs, and trees, trees and more trees! We talked about some work that we want to do in our yard this summer.
The grass needs some help, so we're talking about that. I'd also love to add some flowers, but I have "The Black Thumb of Death" so it's not a great idea. But I can still look, right?
The weather for the next several days looks great, so we're hoping to finally do some outside chores, after all the rain.
Like: cleaning the pollen off of my car that had just been washed fifteen minutes earlier.
Sighhh...Oh Handy Man, Why did you even bother?!
We are coughing and sneezing up a storm from the pollen. The boys seem to be affected the worst. My throat feels like I've been swallowing sand. A coat of yellow dust is all over the house...great!
Don't forget, there's still time to enter a project in our Wicked Awesome Wednesday Link party #13, which I accidentally posted on Thursday. (oops).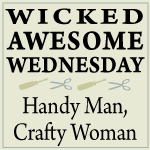 What are your plans for Memorial Day weekend? Do you have an extra day off for the holiday? Are your allergies killing you right now? We feel for you!