Welcome to readers who are touring a Parade of Homes with
A bowl full of lemons
. Thanks so much to Toni for putting this all together for us. I just love looking at other people's homes.
Rob and I bought our current home in 2005. The home was built in 1995. The yard, the outside, the inside, all of the house needed to be cleaned up and remodeled. Here is our front door, come on in:
Inside the front door, you'll see our wood staircase. We did a lot of renovating
.
It used to be covered in carpet
.
We renovated our first floor bathroom, and painted it a pale yellow.
Here are some antique hand mirrors that we hung in the bathroom:
In our office, I have a table where I work on my scrapbooking. You can read more about it here.
Are you hungry? We just set the table with some of our vintage Fiesta Ware. Come have a seat!
I'll make you a sandwich in the kitchen, if you'd like.
Do you need to take a nap? I'll show you to the guest room.
Thanks so much for stopping by!
Please check out the next home tour here, which is Finding Silver Linings:
You can go back to the beginning of the tour here, at A bowl full of lemons:
We're still hosting our Wicked Awesome Wednesday link party, it's linked up below this post.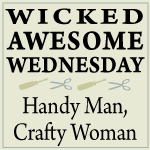 Linking to: A LIttle Knick Knack/ Chic on a Shoestring/ It's a Hodgepodge Life/ My Romantic Home