I'd like to show you the pile of "snirt" (dirty snow) that we STILL have in our backyard. Yes, on April 12th, we still have snow on the ground.
Here it was, on Saturday, April 9th.
We had a few warm days (60s, 70s) recently, so the pile shrunk, but it's still there.
Let's have a Contest:
The first person to guess the date and hour that the snirt pile will melt, without going over, will win a $30 Target Gift Card!
For those who want to be somewhat scientific in their approach, some facts:
We live about 30 minutes from the coast of New Hampshire. We sometimes have a sea breeze.
This pile is in shade or dappled sunlight most of the time, which is partly why it it's still there.
It's pretty rare, but we have had snow on the ground as late as early May. Just an FYI.
The snirt pile today was approximately: 11 feet long, 7 feet wide, and 14 inches tall. Yes, I really went out there with a tape measure. Handy Boy helped me.
In other news: some daffodils are starting to sprout in our yard, not far from the snirt pile.
The fine print, please read, as this contest is somewhat unusual:
Open to residents of the United States only

ONE guess per person

You must make a comment with your guess which should include: the date, the hour, and an email address OR link to a blog where you can be reached

PLEASE refresh comments before you make your guess, so you don't duplicate someone else's guess. If there is a duplicate guess, the second guess will be deleted. If there is an incomplete guess, your guess will be deleted.

If your comment is deleted, you may try again, but remember, only ONE comment per person.

The contest will close at midnight, Eastern Time on Thursday, April 14th. After that, no more comments/entries will be taken.
The $30 Target Gift Card will go the person who has the closest guess by date AND time, without going over.
The winner will be announced as soon as the snirt melts. If I can't reach you within 48 hours after the announcement, the next closest guess will be chosen.
Good luck!
Don't forget that our Wicked Awesome Wednesday link party will be up tonight at midnight.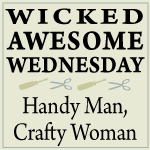 **Comments have been turned off for this contest. Thanks to everyone who entered. We are now on "snirt" watch!"