I talked about our pantry reorganization, using Laura's PROCESS technique of organizing. Org Junkie is one of my favorite organizing blogs.
I also wanted to say hello and welcome to our new readers, Google followers, and Twitter and Facebook followers!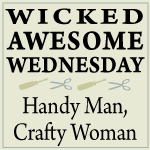 I'm so amazed when I look at all of the projects that get linked up. You are one creative, crafting, sewing, cooking, baking, renovating, decorating bunch! We're leaving the link party up until Saturday night, so there's still time to join in on the fun.