I just wanted to share some Wicked Awesome Stuff I'm loving this week.
We have a new advertiser: Goodies by Greiner.

Stephanie has a really fun Etsy shop with some really cute crafts. Here is her "Boredom Block." When your kids say "Mommmmm, I'm borrrred!" you can roll this block and it will give them choices about what to do.
Check out the other cute crafts that she has in her shop.
Don't forget about our giveaway for $50 gift certificate for Clean Mama's Etsy shop!

You still have until 7 pm eastern tonight to enter a comment for a chance to win the gift certificate.
I wanted to point out a few fun web sites I've come across lately.
The Spotted Canary is a fun website with a lot of great info on crafts of all kinds: scrapbooking, paper crafts, jewelry and beading, stamping, etc.
Small Notebook is a great site about simplifying, homekeeping and organizing. I know there are a lot of sites that cover these topics, but this blog is just great! The author and her family have moved to Italy for a year. She's very interesting!
The Saved Quarter is a blog about saving money and frugality. She is saving a quarter of her income in 2011, and challenging others to do so, too. This is a huge challenge for this blogger and her family, since they live on a low income, in a very expensive city: San Francisco. She gives very practical advice, and this site is definitely not like the usual frugality blog.
I just wanted to remind you all that in March, we'll be starting a blog party on Wednesdays: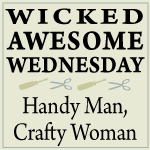 You'll be able to link up your projects about homemaking, recipes, DIY projects, home decor, crafts, organizing, etc. Watch for more info about this blog party soon.