I wanted to take some time to thank our great sponsors here on Handy Man, Crafty Woman; and talk about a few changes
we're going to be making to the blog.
Toni from A bowl full of lemons has a great blog, with lots of beautiful photos. She talks about organizing and cleaning, decorating and renovating. Toni also has a photography blog.

My friend Cynthia has an Avon business, and she's been recruiting like crazy! If you haven't seen an Avon catalog for a while, you should check out her site. In addition to makeup and skin care, they also offer jewelry, home products, and shirts, shoes and handbags.
My bloggy friend Alison at House of Hepworths has a really fun blog. Alison does a ton of painting, decorating and renovations on her house. She even uses power tools on her own! (I leave that to Handy Man, here.)
Don at Don's Fine Art shows a variety of paintings on his web site. He also has sculptures and a model ship. Don also features a Painting Process series, where he goes over the steps that he goes through to complete a painting.

Becky at
Clean Mama
has a great blog, filled with cleaning and organizing tips.
She also has some really useful printables in her Etsy shop, which can help you with housekeeping, grocery lists, budgeting, meal planning, etc.

We have some openings in March for advertisers. We're still offering 125x125 ads on our side bar for the low, low price of: FREE! If you'd like to advertise a blog or business that would interest our readers, please email us for more information.
We've been working hard and making a few changes to the blog. I wanted to point out that the recipes section is now up and running. Click on the Recipes tab, and you will be directed to another page with the recipes divided into different categories. Go take a look!
You may have also noticed a new blog button on our sidebar: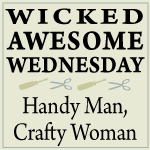 Yup, we're gonna pah-ty like it's 1999. Blog party, that is. In March, we'll be hosting blog parties on Wednesdays.

Wicked Awesome Wednesdays, to be exact. I hope you'll join us!
The party will be open to anyone who wants to share their home decor, renovations, crafts, recipes, befores and afters; any topic that we cover on this blog.

Even if you don't have a blog, you'll want to check out all of the great projects that people will be sharing. So
get ready to pah-ty!
Also, watch for some upcoming giveaways that we're really excited about. Have a great weekend!