If you like to read about organizing, you'll love this book from Laura Wittmann, called Clutter Rehab: 101 Tips and Tricks to Become an Organization Junkie and Love It!
Laura writes a blog called I'm an Organizing Junkie. It was one of the first blogs I found when I was looking up organizing blogs. She writes the best posts about organizing and simplifying.
Laura's book takes the best organizing tips from her blog, and consolidates them into this great format. I like that she doesn't suggest that you have to go out and buy a lot of expensive organizing products. Also, many of her tips can be completed in just 15 minutes (or less!), but they can make such a difference.
If you are really overwhelmed with clutter, use this book to help get you jump-started. Try to do one tip, or even two to three tips per day, and you can get every corner of your home organized. Once you get sections organized, you can also use this book for reminders to keep up with your maintenance.

* * * * * *


Just wanted to remind everyone about our new link party, coming Wednesdays in March! Watch for details soon...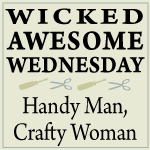 What are you working on this weekend? Crafting, shoveling snow, decluttering, organizing, baking, laundry, sleeping?