I've started to venture into card making. Once in a while, I'll make a card...and I've discovered that if I don't have any envelopes, I need to make some!
There are templates and guides that you can use online, but I found The Enveloper tool by The Crafter's Companion. Handy Man bought it for me for Christmas, and it's been a lot of fun to play with.
It comes with a nice instructional booklet. For this demonstration, I'm making the 1/4 US Letter Paper Envelope. The sizing and scoring instructions for this size is shown in the second purple block in the top row.
The instructions say: Paper Size, 8 1/4" square. I used my great Making Memories paper trimmer, and cut a piece of paper into an 8 1/4 by 8 1/4 inch square.
I've found that it's best to use paper that is somewhat lighter than cardstock. Heavy cardstock is a bit hard to fold into an envelope.
For the size envelope I'm making, the instructions say to use score lines D and F. You can see the letters on the edge of the Enveloper.
Put your paper into the corner of the Enveloper. Use the scoring tool to make a score line at "D." Then, turn the paper around and score the opposite side at "D" as well.
Then, you'll need to score the other two corners on the "F" line.
(By the way, this is the same piece of blue paper. I didn't use a flash, and took all these photos in the same spot, within just a minute or two of each other. I am really trying to take better pictures for the blog. but I have no idea why this happened!)
Here is the paper, with all of the scoring marks on it. If you look closely, you can see some of the marks, especially to the left.
Next, you'll fold in the short sides of the envelope. (At this point, I remembered that I had used paper with measuring lines on the back. Oops, don't do that when you make an envelope.) I used my bone folder to get a nice, crisp, edge.
Now, put some double-sided adhesive tape on the bottom flap's edges.
Fold up the bottom flap and press down to secure it to the adhesive.
Next, I like to tuck in the excess flap. Put a tiny bit of adhesive inside the flap before you tuck it in, to help it stick down.
Use your bone folder to fold the top of the envelope down. Now you have a cute, handmade envelope!
This tool is great for those of us who are envelope-challenged and need some guidance.
You can make envelopes of all different sizes; you can make pretty lined envelopes, and even what the site calls an "envelo-box". This is an envelope that has a double set of folding lines and comes out a bit thicker, so you can enclose a card that might have
some lumpy embellishments.
Go to
The Enveloper site
for video instructions. This fun little tool costs only $14.99.
Have you ever made your own envelopes? Have you ever used this tool?
* * * * * * * * * *
Our first ever link party is starting this week: Wicked Awesome Wednesday!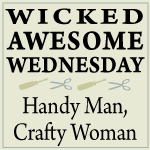 We're calling it Wicked Awesome Wednesday, but I'll be opening up the link party around 9 PM on Tuesday night. This is my first time hosting a link party, I hope you'll all join! Get ready to link up your projects, recipes, crafts, renovations, etc.
See you tomorrow night! I'll send out Tweets and Facebook reminders; you can join our Twitter or Facebook pages for blog info, or link party reminders. See the icons on the top right hand section of our page for our Twitter and Facebook links.
Linking to: Tip Junkie/ Funky Junk Interiors/ Fingerprints on the Fridge/ A Little Knick Knack/ Finding Fabulous/ Delightful Order/ Momnivore's Dilemma/ Fireflies and Jellybeans/ Paisley Passions/ House of Hepworths/ Beyond the Picket Fence/ somewhat simple/ Tales from Bloggeritaville/ My Backyard Eden/ Sew Much Ado/ Blue Cricket Design/ At Home With K/ My Uncommon Slice of Suburbia/ Not JUST a Housewife/ New Nostalgia/ Sugar Bee Craft Edition/ The Gypsy's Corner/ Today's Creative Blog/ It's a Blog Party