I love to read home decor blogs, and I sometimes enter contests to win prizes.
I usually don't win contests of any kind, I have the worst luck. I could enter a contest with one other person, and still lose!
But, lo and behold, I won something on this cute home blog that I like to read,
Finding Fabulous.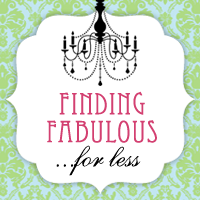 I won two rolls of Scotch Blue Edge Lock tape
. Plus, the company threw in a blue plastic doo-hicky for smoothing down the tape. OK, it wasn't a huge prize, but I was thrilled because like I said: I never win anything!
Even Handy Man said: "You actually won something?? Wow!"
We haven't painted anything in a few months; but we've definitely used this tape. Here's an example of how we used it to paint separate colors in Handy Boy's room:
We later painted the window white. Someday we'll show more photos of this room.
Here, we used it to make a crisp line between the wall and ceiling color in our bedroom:
You would not believe how much we have painted in this house and our previous two houses. Walls, ceilings, doors, trim, baseboard, etc etc. This blue tape is great for making a nice, crisp edge.
Have you used this blue tape, or a similar type of tape for painting? What's your favorite brand?