Ahhhh, January! The promise of a new year. One of the resolutions I hear people make (in addition to losing weight) is to get organized!
I have always tried to keep the house organized, but there are always areas that could use some work. I need to work on the downstairs bathroom closet, for one thing.
One of my favorite bloggers,
Clean Mama
, is having a cleaning month for January. Check out her blog, she has some really great organizing and cleaning tips. She also has some great printables of cleaning schedules, etc, to keep you on track.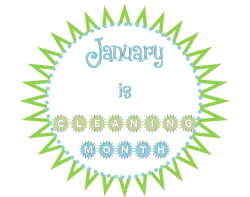 If you look back at some of the posts in our organizing category, you'll see some ideas and some organizational before & afters. Here are some of my favorites before and after organizing projects:
We'll be posting more organizational projects soon. One of my goals for 2011 is scrapbook related: organize some of my digital photos, and keep up better with getting my photos printed!