I've been so inspired by all the cleaning and organizing posts lately on some of my favorite blogs. It makes me want to go and organize!
Here's the before photo of the tiny closet in our downstairs bathroom. It's hard to take a good picture in there.
I know, it's a weird jumble of stuff. Some of it is excess kitchen stuff that doesn't fit into the pantry. Some of it is toiletries, and some of it is cleaning stuff.
About a year after we moved into this house, I had Handy Man take out the existing white wire shelves, and put in solid wood shelves. I hated those wire shelves; everything fell over, or things fell through them! It was awkward for Handy Man to work in that small space, but it was worth it.
After:
Yes, we have a ton of light bulbs. It seems like one light bulb goes out, then six more go out! Plus, we buy multi packs to save money.
We also have lots of candles and oil lamps. We use the oil lamps for when the lights go out. That is a frequent occurrence around here. Don't worry, no matches are stored in this closet!
The hooks on the wall were already there (Handy Man hung them up for me.) The plastic bins were bought for other projects, so I had them around the house.
There it is, nothing fancy or expensive. It didn't take long. I took everything out, wiped down the shelves, threw out a few things and put everything back in a way that made more sense. I think it took about half an hour.
Here are some of our previous organizing projects, with before and after photos:
Do you want to check out some organizing challenges out in blog land? Here are two that I'm loving right now:
Clean Mama is doing a 21 day cleaning challenge.

Also, A Bowl full of lemons is doing a 21 day challenge.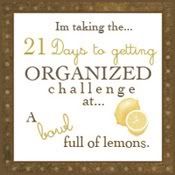 Do you have a spot that needs to be organized? Tell us about it.
Linking to: I'm an Organizing Junkie/ I Heart Organizing/ A bowl full of lemons/ My Romantic Home/ House of Hepworths/ Tales from Bloggeritaville/ Beyond the Picket Fence/ somewhat simple/ The Shabby Chic Cottage/ My Backyard Eden/ We are That Family/ Blue Cricket Design/ Savvy Southern Style/ Sew Much Ado/ Today's Creative Blog/ Not Just a Housewife/ New Nostalgia/ Organize with Sandy/ It's a Blog Party/ It's so Very Cheri/ Dittle Dattle/ Keeping it Simple/ Boogieboard Cottage/ Between Naps on the Porch