In October, I posted about a fun, new picture hanging tool that I came across online. It's called "Hang and Level". This product is made by Under the Roof Decorating. After I posted about their product, a representative from Under the Roof Decorating contacted us, and sent us some products to try ourselves, and to give away to our readers!
A demonstration, by Mr. HandyMan himself. Notice the "I'm only humoring you" face here.
Place your photo on the hook. Use the single hook for a smaller frame. There are two hooks below that one for a larger or heavier frame. This frame had a sawtooth hook on the back.
"Can you hurry it up? I want to get back to watching my movie."
Position your picture on the wall where you want it. Use the handy, built-in level to level it.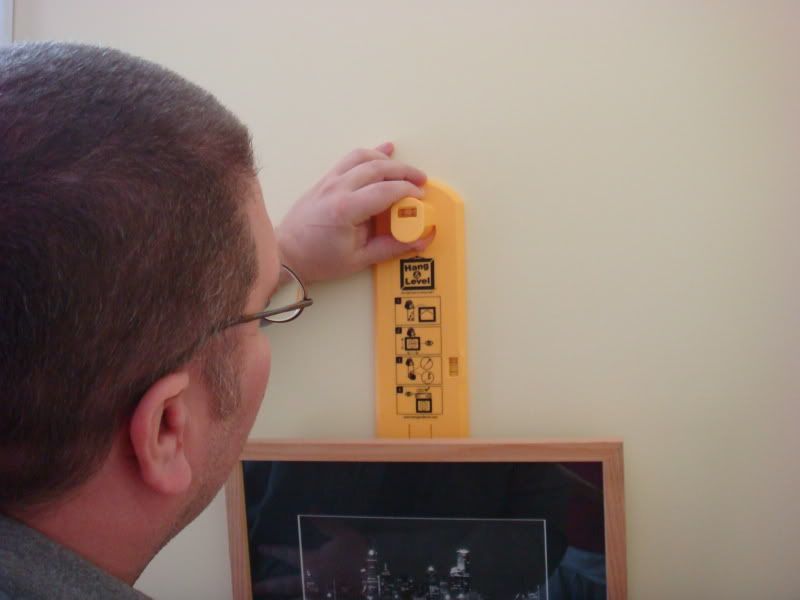 Remove the picture, leaving the tool in place. Press the button (or buttons) to mark your spot.
Hammer in your nail, hang up the picture and level it. So easy!
We also hung a second photo above the first. This tool really helps when you want to create groupings of pictures.
Ta-da! That was fun, and it only took about three minutes. No struggling, no "Does this look straight?", etc. We will be using this when I get around to hanging more photos in our stairway.
If these look crooked, it's because *I* was crooked, not the photos. (I was trying to get a photo without showing any glare from the glass.) A long-time friend gave us these photos of Sydney, Australia. (H, If you're reading this, I'm sorry it took us forever to hang these up!)
Before you scroll down any more, can you guess what this next product does?
This is a cute little item called the Stoppy. The web site calls it "the ultimate door and window stop." The Stoppy grips all types of surfaces, and will not mark your doors, windows or floors. There's a short video on the site that shows the different ways you can use this tool.
We tried it out around the house. Here it is, holding up a heavy window that doesn't stay open by itself.
Crafty Woman: "By the way, why haven't you've fixed this yet?!"
Handy Man: "I've been too busy building my shed!"
Excuses, excuses.
We also used one to hold open a door. Very clever!
We have items to give away to TWO lucky winners:
The first winner will receive one Hang and Level Tool, and one Stoppy
The second winner will receive one Stoppy
- Open to residents of the United States only.
- Please become a Google follower (see right sidebar), or follow us on Facebook or Twitter, or let us know if you already follow us.
- Post a comment telling us about a project or idea you'd like to see on our site in the future. (I know I did this on the last giveaway, but I really liked reading your ideas. Some of your suggestions are in the works...)
- You
must
include your email address with your comment! Your email will not show publicly, only we will see it.
- Contest ends at 10 AM on Saturday, November 20th. Two comments will be chosen randomly. If we cannot reach you within 24 hours after the end of the contest, another number will be chosen.
**This contest is now closed.**
Linking to: Tools are for Women Too!/ It's a Blog Party