By Rob

Here's the newest addition to my tool collection: A Walker Turner L540 wood lathe.
I picked it up about 5 months ago from a Craigslist ad for a whopping $125.00. It was introduced in a 1936 product catalog. Although the L540 was introduced in the mid-1930's, I can't be sure when this particular machine was made.
When I first brought it home, it was a bit grimy. I took it apart and cleaned it up a bit. After reassembling it, I adjusted and oiled it up. In addition, I added a safety switch so that I could stop the machine without having to unplug it. To my surprise, the machine was in fine working order!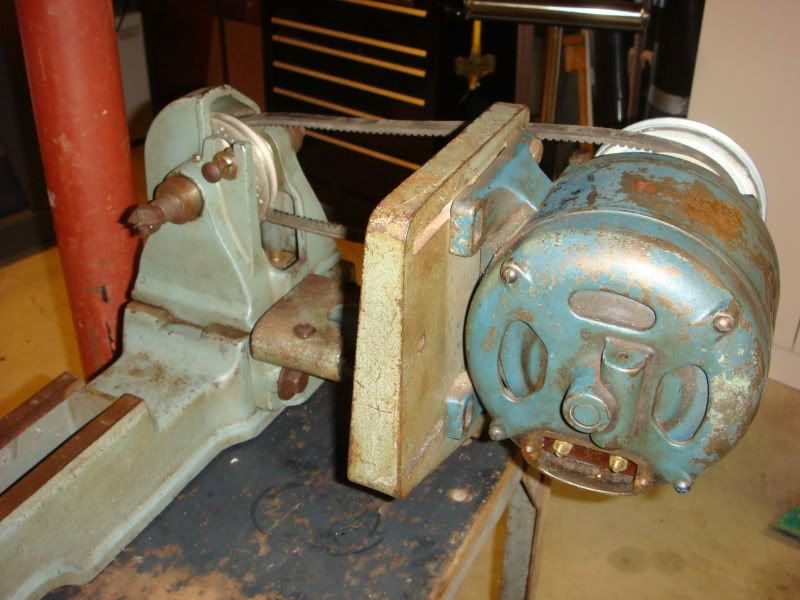 I figure, now that I have a little time on my hands, I'll start turning little wooden bowls and other items to sell at craft fairs.
(A Note from Crafty Woman: A little time on your hands...Honey, have you SEEN your to-do list lately?!?!)
:-)
Taken from an ad in Popular Science Magazine, Dec. 1937:
L540 Gap Bed Lathe $18.50
This low-priced tool will handle the bulk of wood and plastic turning and metal turning jobs in the home workshop and do them well. It has sturdy cast iron gap bed 44" long and 3 ½" high. Morse Taper centers, bronze bearings, ball thrust bearing in head. Capacity: work 30 ½" long, discs 10" in diameter.